To add a custom background to your Photomontage please open Photo Cutter from the startup menu:
Next, open a new project by clicking "Open" and choose a photo from your computer.
1- Remove the background
Once the photo is open in Photo Cutter, you can start cutting out the background. In the Cut-out tool, select the red marker which will allow you to first mark the areas to remove.
Next adjust brush size in order to refine the precision of your cutout. The smaller the brush, the smaller the areas that will be removed.
Then with your mouse, place red lines one after the other on your background so that it disappears completely to leave a transparent background like this one:
Note: depending on the details of your photo and the brush size, the cutout may be achieved with a single or multiple red lines.
However, in some trickier photos, your marking may remove an area of the image that you want to keep. No need to panic! We will now mark the areas to keep, to improve the precision of our cutout.
All you need to do is select the green marker this time to mark the areas to keep:
Then using the mouse, trace a line only on the area to keep. With our example, by comparing the two photos, we can see that the dome of the Invalides building, to the left of the image, had disappeared.
The green marking made it possible to recover the dome and therefore achieve a much more precise cutout.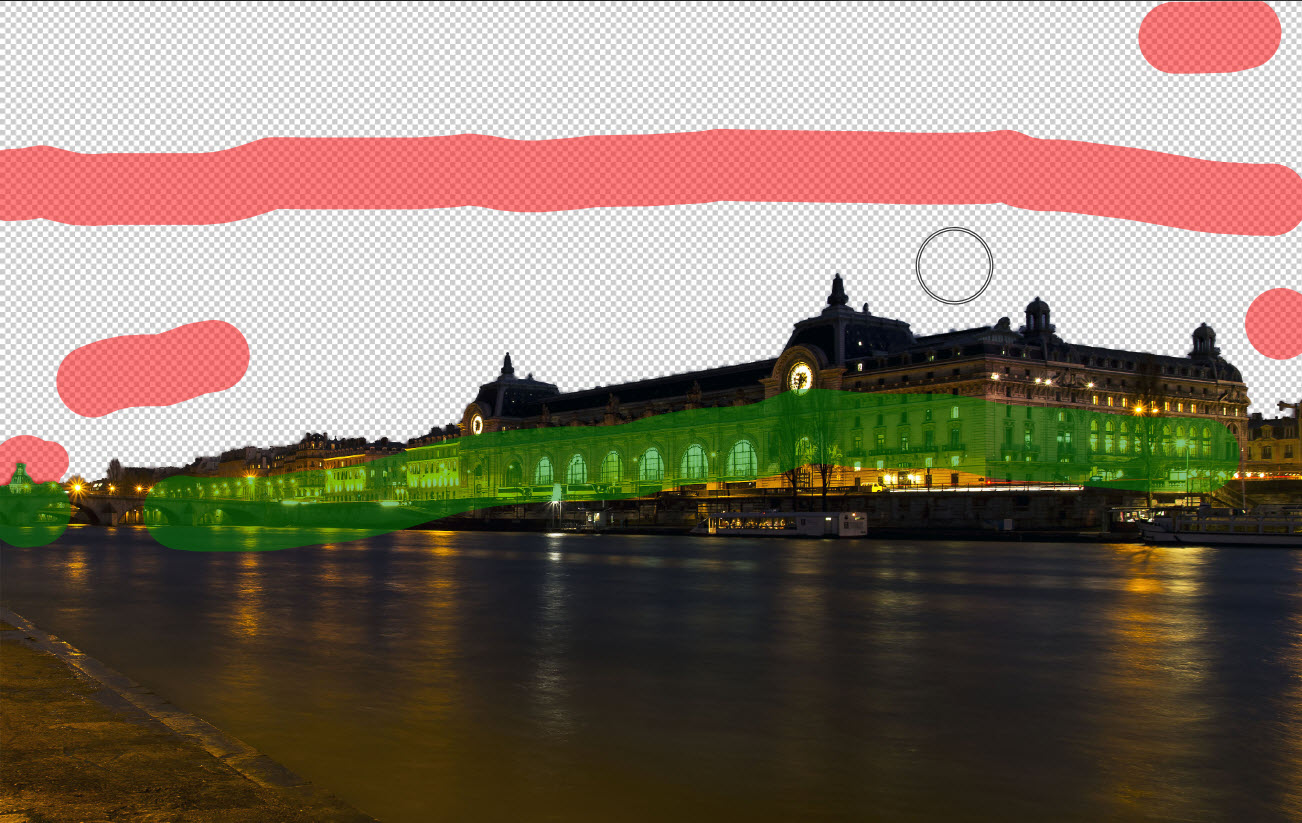 Note: Don't hesitate to reduce brush size in the trickiest areas because if your green line touches part of the background, it might reappear.
Now that we have cut out our background, it's time to add a new one!
2- Add a custom background
This is the last, but also the most important step of our tutorial. Staying in Photo Cutter, this time click on the "Photomontage" tab located in the right-hand panel.
Then at the top of the Photomontage section, click the + which will allow you to import an image from your computer.
Select the photo that will be your new background from the folder of your choice. Next, click Open and the photo will appear in the background.
You then need to adjust your original image (in our example, the Musée d'Orsay) to your new background by stretching the handles of the photo, until you find the perfect fit between the two images:
If you're not happy with the background, you can repeat the process by clicking the + button again, and importing a new background of your choice.
Your imported backgrounds will be saved here in Photo Cutter: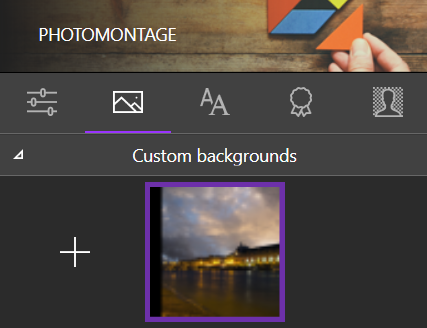 Finally, don't forget to save your photomontage on your computer by clicking on the disk icon in the top toolbar.