First, you need to remove the demo version from your computer.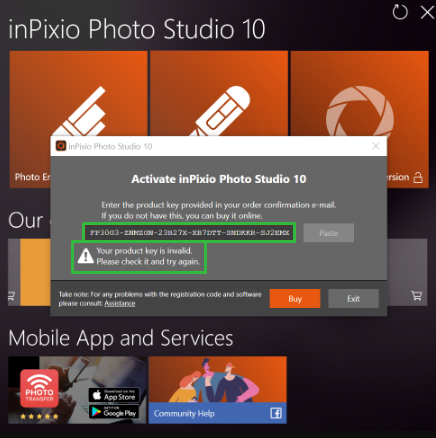 Please follow the instructions listed below.

1) Go to the "Start" menu (located in the bottom left-hand corner).
2) Type "Control Panel" and access it.
3) Open "Programs and Features" or "Uninstall a Program" folder
4) Find the inPixio Photo Studio/clip program in the list and click on Uninstall.
5) Follow the prompts to finish the uninstallation process
6) Restart your computer

After you have successfully removed the demo for the inPixio program, please proceed to the installation of the full version from your purchase confirmation email.
In cases where the program is always reporting that the license is invalid and actually you have installed it on one computer only, please make sure you run inPixio Photo software
as an Administrator.
Please copy and paste the key number to avoid mistypes because one misspelled symbol in the key sequence makes it invalid.
Please deactivate temporarily your web guards, browser guards, antivirus, and firewall, as they are likely and probably will block your activation.
Our product is malware-free, we guarantee it!
FYI: This is not necessarily a mandatory requirement, however, if your serial key(s) are not accepted or recognized, or if you simply can not activate your software, it would clearly indicate that your security system is blocking your activation.
In case the issue persists, please contact Customer Service with the license key and
the screenshot
of the error message.