The error message that you receive in inPixio software states that an antivirus program or firewall is preventing you from downloading an update.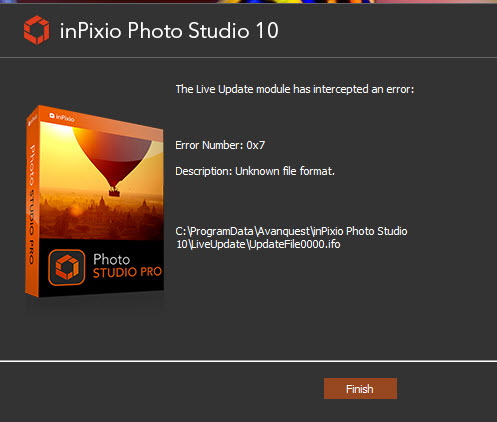 We would advise you to temporarily disable your antivirus software and firewall and manually reinstall the updated software version if the issue persists.
Please follow these instructions to reinstall the software from the scratch:
Install Windows updates (https://support.microsoft.com/en-gb/help/12373/windows-update-faq) and then restart your PC.

After your computer is restarted, please temporarily disable your antivirus and firewall, then uninstall inPixio Photo Studio 10.
1) Go to the "Start" menu (located in the bottom left-hand corner).
2) Type "Control Panel" and access it.
3) Open the "Programs and Features" or "Uninstall a Program" folder.
4) Find inPixio Photo Studio 10 program in the list and click on Uninstall.
5) Follow the prompts to finish the uninstallation process.

After you have successfully removed inPixio Photo Studio 10, please proceed to its re-installation.
If you are still unable to resolve your issue, please email our technical support.